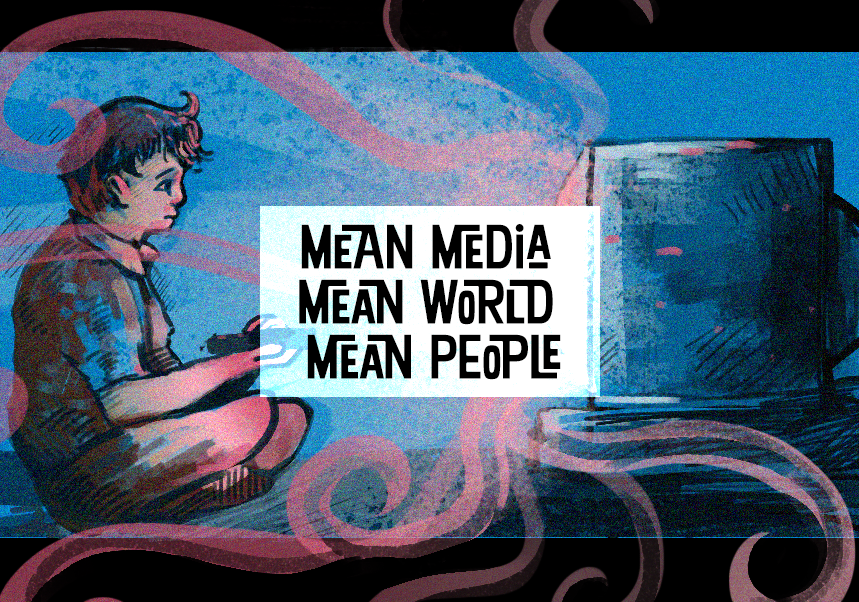 Media conglomerates play a crucial role in shaping how we view, interpret, and navigate the world we live in. So, what happens when these depictions are violent or negative? We bring you an episode on Mean World Syndrome, which describes a cognitive bias in which the media leads people to perceive the world as more dangerous than it is in reality. Further, we take a look at the intersection of this bias and the largely inaccurate depiction of minorities in media which influences how we treat one another.
Brought to you by your hosts Irisa Dong (writer), Rma Polce (producer), and Sasha Smalls (executive producer and editor).
Art By: Savannah Flores
Music from Wave Saver, FLYIN, From Now On @ Epidemic Sound, and Creative Commons
Special thanks to Banseok Heo, the Milstein Program, and the Investigative Biology lab at Cornell for our recording equipment and software!
Sources:
The Mean World Syndrome (2010)
https://hbr.org/2015/09/consuming-negative-news-can-make-you-less-effective-at-work
https://www.pennmedicine.org/news/news-releases/2020/october/study-medias-reportin g-on-gun-violence-does-not-reflect-reality
https://www.theatlantic.com/ideas/archive/2021/05/local-news-media-trust-americans/61 8895/
https://www.simplypsychology.org/cultivation-theory.html
Podcast: Play in new window | Download
Subscribe: RSS